no more

Remember league win only $48k left

Thoughts please on this strategy
Last edited by tony8210 on Thu Mar 25, 2010 4:53 am; edited 1 time in total
Like it Tony, There are some "good" risks there in Waite, Hall, Nicnat and some nice premiums too. I like your mid rookies even though the three starting wont be the best three they are the most expensive so you can downgrade to the cheaper ones if they prove to be better in the first two rounds.



Posts

: 329


Join date

: 2009-05-27


Age

: 39


Location

: Mansfield, Victoria



You've gone Port Adelaide rookie mad!! I agree you cant have hunt and ladson in the same team. I think that you have missed out on 2 must have bench warmers, robbie warnock and tom rockliff youll have to slip them in, sorry they are just vital.



Posts

: 53


Join date

: 2010-02-05



yer, studied today and found rockcliff, he is in for moore now and I have also dumped manye and gone warren as he looks good, warnock was in but skipper may start as hawks injuries mount, undecided, also let trengove go for Matt Maguire so not so port now!
Shuey is also in the mix but not sure where to fit him in maybe for scully,
have freed up more cash $78k in the bank so room to move a bit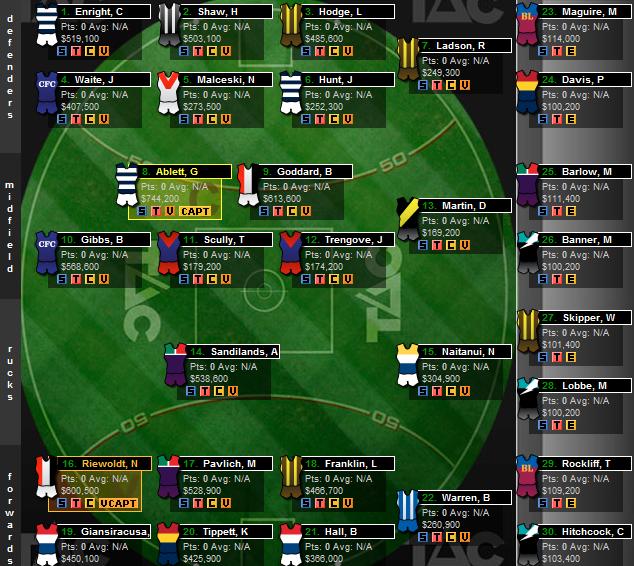 I really like this team.
Think it's got some real potential.
I like the risk you've taken in the mids.
I'm not sold on Ladson yet (eventhough he's in my team too!).

Interesting strategy on putting Goddard in the mid too!



Posts

: 264


Join date

: 2009-05-27


Location

: Out the back kickin' a footy



team looks good tony.
hoping waite pays off for you but might have to dip in scores first to do it.
hope you don't have to wait for waite




Posts

: 447


Join date

: 2009-05-27


Age

: 25


Location

: Melbourne



Aesome team Tony, Forwards look super strong with Hall as your 6th pick as I have hall as my 4th pick! Backs, Mids and Rucks look good!!!

I think it's safe to say that your team is looking finished, just need to keep an eye out for the last couple of games of NAB Cup and Challenge matches, also round 1 selections to see what rookies to get on the bench!



Posts

: 317


Join date

: 2009-06-16


Age

: 27


Location

: Victoria



I respect that comment coming from you Kosta, your normally highly critical, I am not so confident as those injury risks really need to come off for this to work early. Other options around their price range are not convincing!
No worries Tony, but seriously this is probably one of the best teams i've seen, going to be hard to beat. I'm looking forward to it




Posts

: 317


Join date

: 2009-06-16


Age

: 27


Location

: Victoria



Great team Tony! Would you like to play in my league 872020

---
Permissions in this forum:
You
cannot
reply to topics in this forum