Well after toying with the idea of 5 starting rookies in the MID i have settled on 3. Here is a tentative lineup which will no doubt change. Let me know what you think.
Dont take too much notice of what rookies are there as they may change during NAB.
Still unsure on Higgins but cannot find a better option at his price.
Going with Nic Nat over Kruezer until Carlton works out wtf it is doing in it's ruck division. I dont think Kruezer will score well as a key forward.
hey mate,

team is looking pretty good.

I have higgins in my side as well. Think he's going to average over 100 this year.

not sure about scully. Maybe connors in the mids or even cunnington if he plays a few pre season games.

as you said rookies are still up in the air however doubt rockliff will be in the team a lot this season, but could be proven wrong



Posts

: 372


Join date

: 2009-06-10


Age

: 36


Location

: Brisbane



Hey bonnie, really like the team.
5 rookies starting might be a little risky but getting some of the best players in each position might pay off (goddard, ablett and swan from the start

).
higgins worth the risk imo.



Posts

: 447


Join date

: 2009-05-27


Age

: 25


Location

: Melbourne



Bonnie,
Don't like Davis starting- don't think he is the best 22 for the crows. He does not looklike taking over Otten's role. Waite is a big risk coming off a knee recon- how fit will he be round 1? Scully i am concerned about his body being ready round 1 & how many rookies the demons will play round 1. Trengove looks more advanced. Would start Jetta instead. Not bad overall

Yeah Dav i agree with everything your saying mate but most of it should sort itself out by round 1.

Waite is a big risk but if he does play round 1 and keeps fit he will be a definite keeper and will shoot up to $530k in no time. If he falls over early il just burn a trade on him. Risk and reward right there i reckon.

In regards to Phil Davis i will wait and see how the teams line up. Hopefully another DEF rookie pops his head up. Maybe that one from West Coast? Bannister? or something...

If they name Scully round 1 he is a lock i reckon. as we get closer to round one i will finalize my 5 midfield rookies as at this stage there is about 10 who could make the cut.
Hi Bonnie,

West Coast rookie is Brad Sheppard - played well on the weekend, playing NAB cup on Friday- borderline best 22. Beau Waters playing this weekend also-151K. Think Waters & Sheppard will be competing for last spot in the 22. Not a fan of starting a rookie in the backs- big risk attached. Waite- I want to see his exact role before picking him. His best fantasy role is playing as a zoning defender,linkman. At Carlton training he & Kreuzer have been playing the key forward posts alomg with Henderson. With the amount of footy he has missed I believe he will take awhile before gaining form making him an ideal upgrade target - the dual positioning makes him more appealing.
Yeah i realise this with Waters he is certainly one to watch. I have taken Davies from carlton out, Added Waters and kept Mcguire and Davis on the bench. So Waters D7, Mcguire D8, Davis D9. Obviously we need to see how waters goes but could be very handy for 150k if he gets some form and stays fit. Yeah i will monitor Waite also.

Dav give me some info on Lecras if you can mate? I am tossing up between Higgins and Lecras and really i want to grab the one that is going to cement their place in their teams midfield. Higgins has more competition with Cooney, Boyd, Cross, Griffen, Eagleton etc whereas Lecras could walk into the West Coast midfield if thats where they decide to play him...

Also just out of curiosity have you got another option over Waite?
Higgins over LeCras- LeCras will play permanent forward pocket- club has plenty of midfielders, needs goal kickers. Sumich has said he will play the vast majority of the time as a forward pocket. Kennelly over Waite -320K is a steal for a player of his quality, looking great in the pre-season.
Thanks for the input on Lecras Dav, I dont know if you recall but you told me to get Lecras late last season and that very next game he got like 157 and won me a semi final

I have made some adjustments again so here is the team. Let me know what you think. (I am loving this team)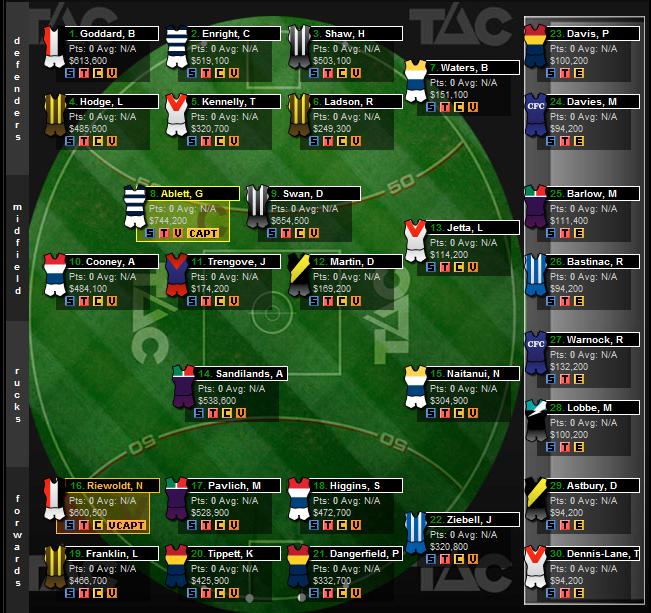 Like the team alot better now. Remember well the advice re LeCras, you were tossing up between him & Wirra. At that stage Kerr & Masten were out so LeCras was playing mainly midfield. Just keep an eye on Dangerfield.He is missing this week's game in Alice Springs with what was described as "sore legs". There are rumours about a stress fracture somewhere but I've not heard anything official on it.

---
Permissions in this forum:
You
cannot
reply to topics in this forum